Brooklyn Bedding Pillow Review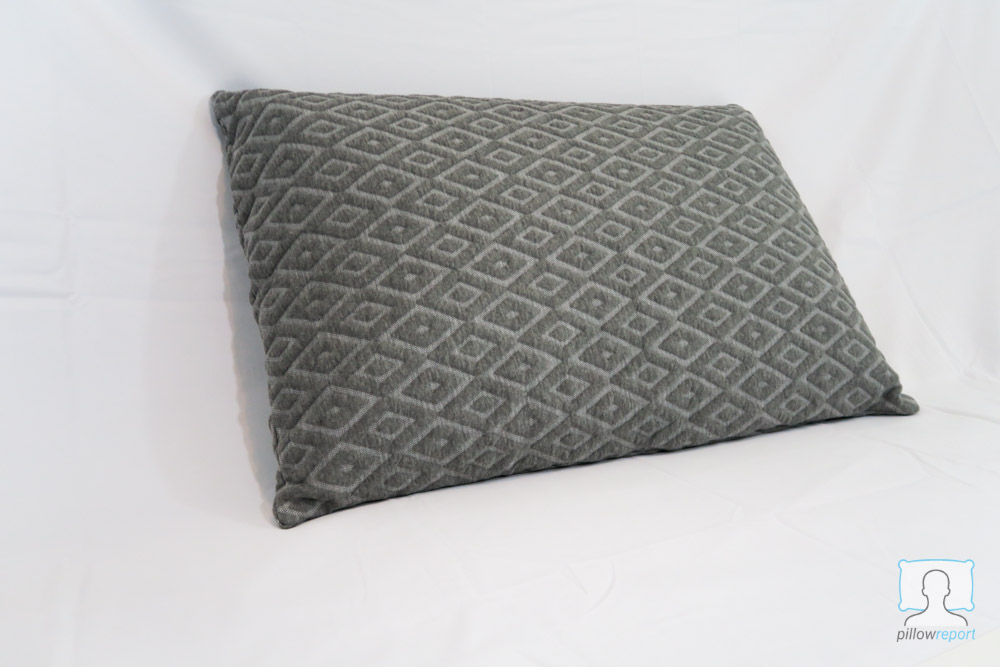 Summary
The Brooklyn Bedding pillow is well made from the core to the cover. Its cover passed our durability tests and the core is made of high-quality Talalay latex foam. This means it will provide consistent support and comfort night-after-night.
We found this pillow is best for stomach sleepers or individuals who enjoy flatter pillows (They also offer a firm pillow that may be better for back or side sleepers).
Order Process & Delivery
Ordering online was easy and checkout was quick. Their website has minimal information and you have to dig deep to find details like where the pillow is actually manufactured. Additionally, it is very confusing on what the pillow is made of. They state it is made of "latex" and then also state the material is a "mixture of polyurethane, latex, and memory foam". (Note: on inspection, the pillow is Talalay latex foam). This lack of and inaccurate information would have us hesitant as a consumer at first. This is an easy fix for Brooklyn Bedding and isn't a product deficiency at all.
The Brooklyn Bedding pillow delivery was within 5-days and our order was shipped within 48 hours. It arrived in a small box via FedEx.
Initial Thoughts / Unboxing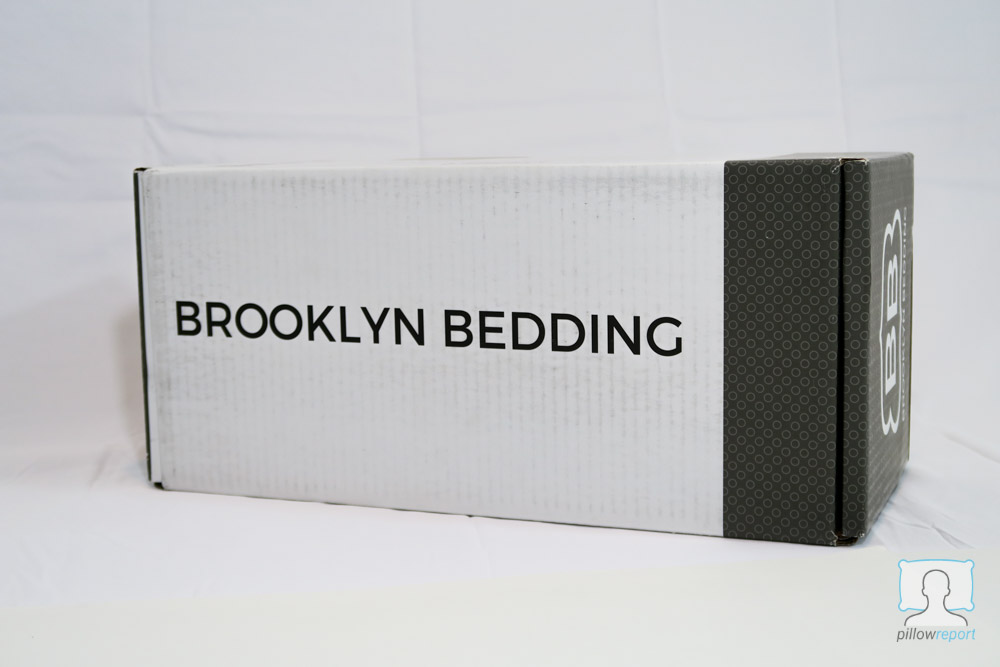 Upon unboxing, the pillow core was rolled up into a bag and the cover was separate. It had a little smell, but nothing overpowering and it did go away in a few days, which is typical of this type of material. A The smell is similar to a new car smell and it is not harmful, unlike memory foam pillows which off-gas. Once unboxed, it was simple to put the cover on the pillow core and zip it up. The cover has a nice soft feel and slight stretch to it.
Detailed Analysis
Support ( A – Stomach; C – Back; D – Side )
The Brooklyn Bedding pillow we tested (Queen Plush) was on the lower loft side, 5.8 inches in height. This lower height combined with the softness (4 , take a look at our firmness scale) of the pillow makes it great for stomach sleepers. In the stomach position, there will be little stress on the neck. For a back sleeper, there isn't enough loft for average individuals for head/neck/spine alignment, but it would work for someone who has a smaller neck or petite body. Lastly, this pillow is not built for side sleepers as it has little support for this position and the low height doesn't allow the pillow to take up space between your head and shoulder.
Durability ( B )
There are two parts to the durability of the pillow: the cover and the inner material.
Regarding the cover, it broke down slightly during our testing which can be attributed to the bamboo being a very fibrous type of fabric. Other than that, it keeps its soft feel.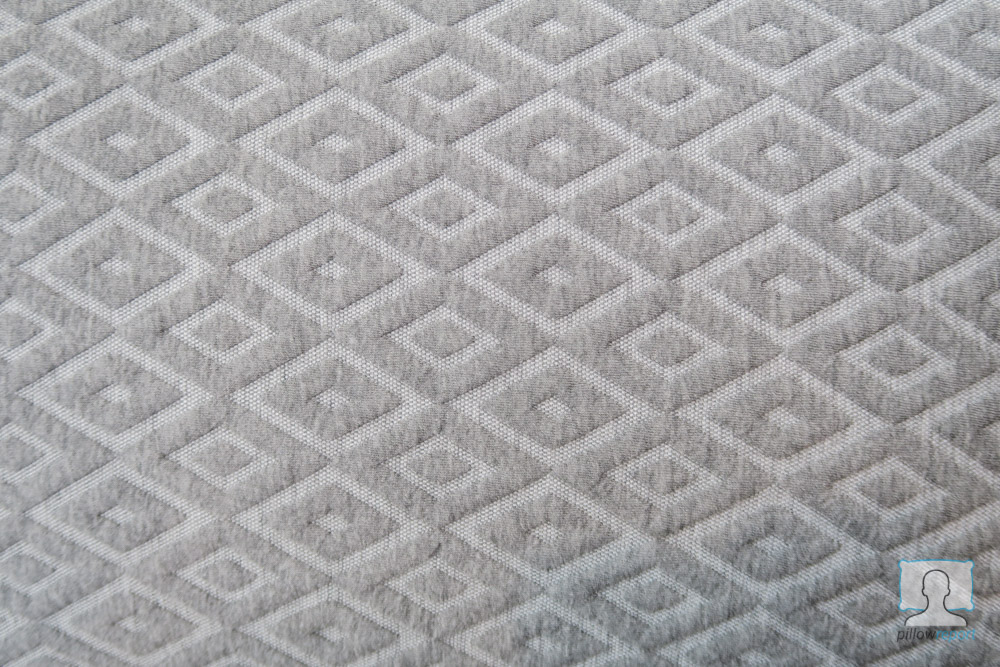 Regarding the inner material, it is Talalay latex foam and this type of foam is extremely durable. This foam core is made in the USA and will not discolor or break down because of its inherent resilience being derived from the rubber tree.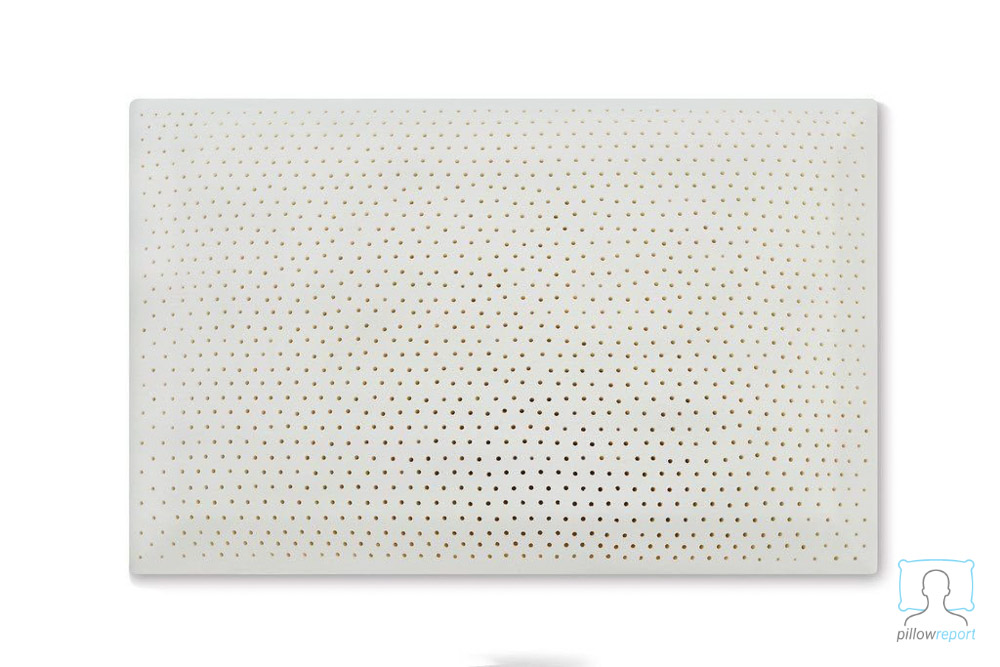 Comfort ( A )
Brooklyn Bedding pillow has highly responsive support, so even if you move at night you won't have to wait for the pillow to adjust. Talalay latex responds and recovers instantly from pressure, unlike memory foam, which gives the pillow a springy feel.
Value ( A )
Talalay latex is a great material because of its durability, longevity, and support characteristics. Most Talalay pillows cost more than the average pillow because of the quality materials and costly manufacturing process. Therefore, this price is a great value with regard to price and the comfort, support, and durability qualities we previously discussed.
Other ( B )
Bamboo in the form of fabric can be made in several ways: bamboo rayon, bamboo lyocell, and bamboo linen. From our knowledge, this bamboo poly-blend uses bamboo rayon and the majority of bamboo fabric on the market is made of bamboo rayon. There are many different ways of manufacturing rayon which vary in chemicals and environmental impact. The concern with bamboo rayon is that the chemical residue remains on the fabric. 
Subjective Thoughts
Customer support wasn't very helpful for finding information and it seemed like they were trying to deceive us because we received different answers from different customer support representatives.
When it comes to getting the best experience in bed, and by that we mean sleep, one of the most important things to have is the pillow. It can either make or break your sleeping experience every night, so that's why it's important to have the best pillow for your head whenever you sleep at night. Pillows with memory foam inside are one of the most popular for consumers, however, you might not have heard of a latex pillow. It's the main opponent of memory foam-based pillows but with different characteristics. It doesn't have the sinking in feeling for the user, is a little cooler, and the raw materials aren't petroleum based.
The Brooklyn Bedding pillow pricing is pretty erratic, we originally purchased this pillow for $79, but you can find it for the cheapest on Amazon ($39.99). Excellent pillow for the price.
Is This Pillow Right For Me?
Overall this pillow is great in many aspects, but you might find it particularly perfect if:
Want latex pillow – The bounce and comfort of latex is unique and it provides great support and comfort.
Stomach sleeper – The loft and firmness of this pillow lead to it being great for stomach sleepers or sleepers who like flatter pillows.
Long lasting – Talalay latex foam is known to retain its support and comfort over long-term use.
Other Key Facts
Free shipping  – free shipping and returns in the USA
10-year warranty – extremely long warranty to make sure you get a replacement if it degrades over time
120-night trial – completely test it out for 120 nights and if you don't like it, you can send it back and get a full refund. The return process is hassle-free.
Washable – the cover is machine washable while the core you can spot wash
---
1 Made In: Where the majority of the materials are produced, not the assembly location. Many manufacturers like to state the assembly location instead of the actual manufacturer location because it is usually China or India.