Malouf Z Shoulder Zoned Dough Pillow Review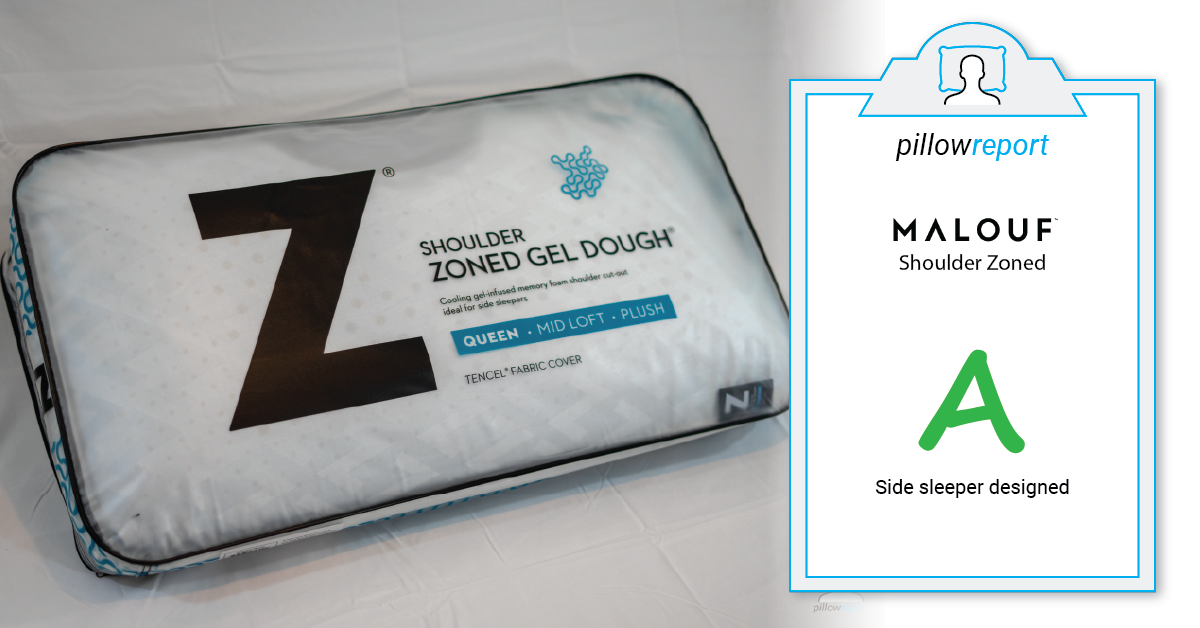 Summary
The Malouf Z Shoulder Zoned Dough pillow is constructed using memory foam. The memory foam is doughy and pressure relieving. Additionally, the pillow has a unique shoulder recess designed for side sleepers for enhanced comfort and ergonomic support. The cover is made of Tencel fabric giving it a soft feel and makes the cover breathable. There are 4 different options: normal dough, gel dough, gel dough with z gel, chamomile, peppermint, and lavender. Our initial findings make this pillow great for side sleepers because of the designed recess.
Order Process & Delivery
You have many options to order as several retailers carry Malouf's products. We used Amazon as and the pillow was delivered in 2 days.
Initial Thoughts / Unboxing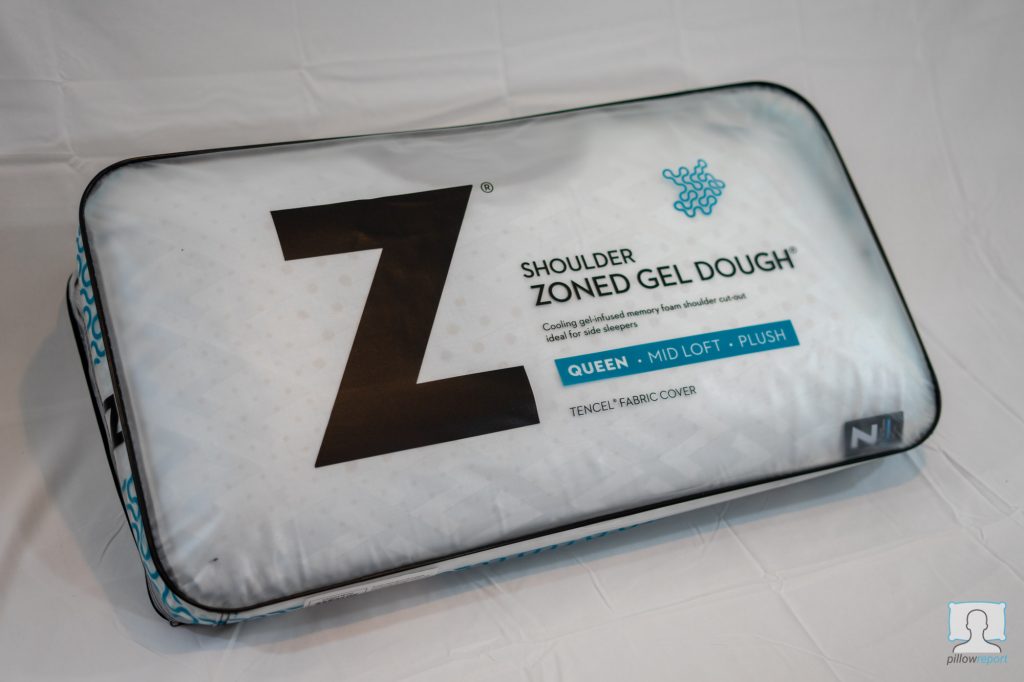 Upon unboxing, the pillow was in a standard plastic pillow bag. The Malouf Shoulder Zoned Gel Dough pillow had minimal scent other than the prescribed scent (mint, lavender, chamomile).
Detailed Analysis
The Malouf Shoulder Zoned Gel Dough pillow is available in queen and king. It has a memory foam feel. The pillow core is designed with a shoulder cutout to provide you with the perfect fit for side sleeping. The Malouf Shoulder Zoned Gel Dough pillow comes in several different options: Lavender, Chamomile, Peppermint, Bamboo Charcoal, and Cooling Gel. Each of these pillows has a different scent to help promote sleep or provide cooling. Unlike most memory foam-like pillows, the Malouf Shoulder Zoned Gel Dough pillow doesn't absorb as much heat so your head stays cooler. Lastly, the fabric cover is made of durable Tencel which is silky soft and breathable.
Support (A – Side; N/A – Stomach; N/A – Back)
Having a specific design, this pillow is made for side sleepers only. The cutout of this pillow makes for the perfect fit for your shoulder. You get the right height for your head for spine/neck/head alignment while your shoulder is lower. The pillow is approximately 6″ in height which is a medium loft. Based on our firmness scale (view our firmness scale), the Malouf Shoulder Zoned Gel Dough pillow is a 5. This means the pillow has a medium firmness.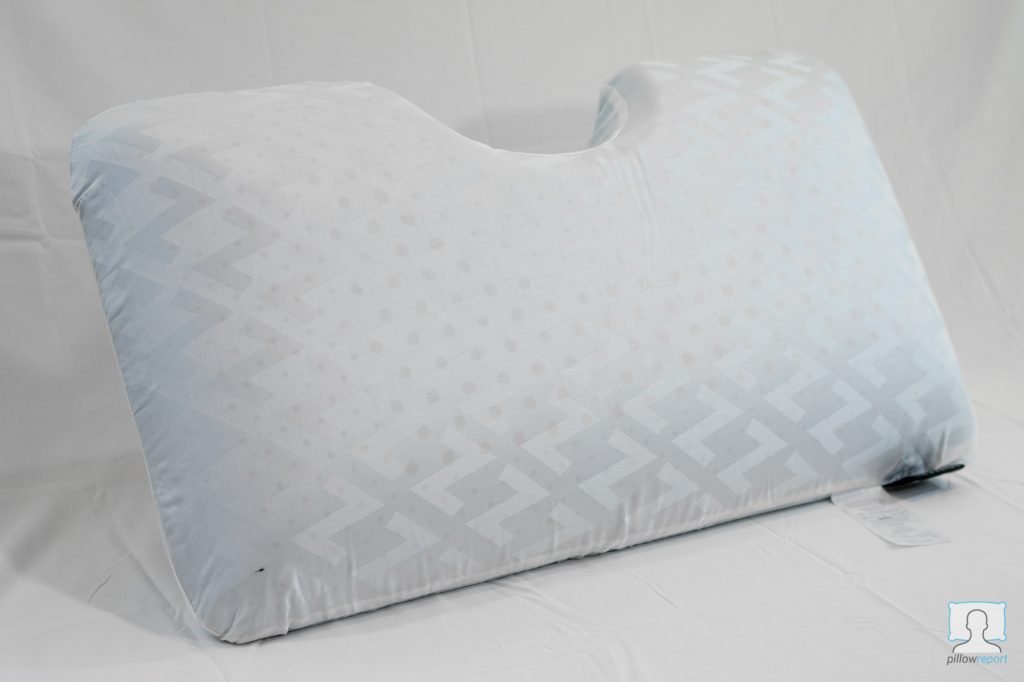 Durability ( A )
We found no issues with the durability of the cover, inner cover, or pillow core through our testing. We saw normal wear on the cover from use and washing. The pillow returns to its original shape, time-after-time.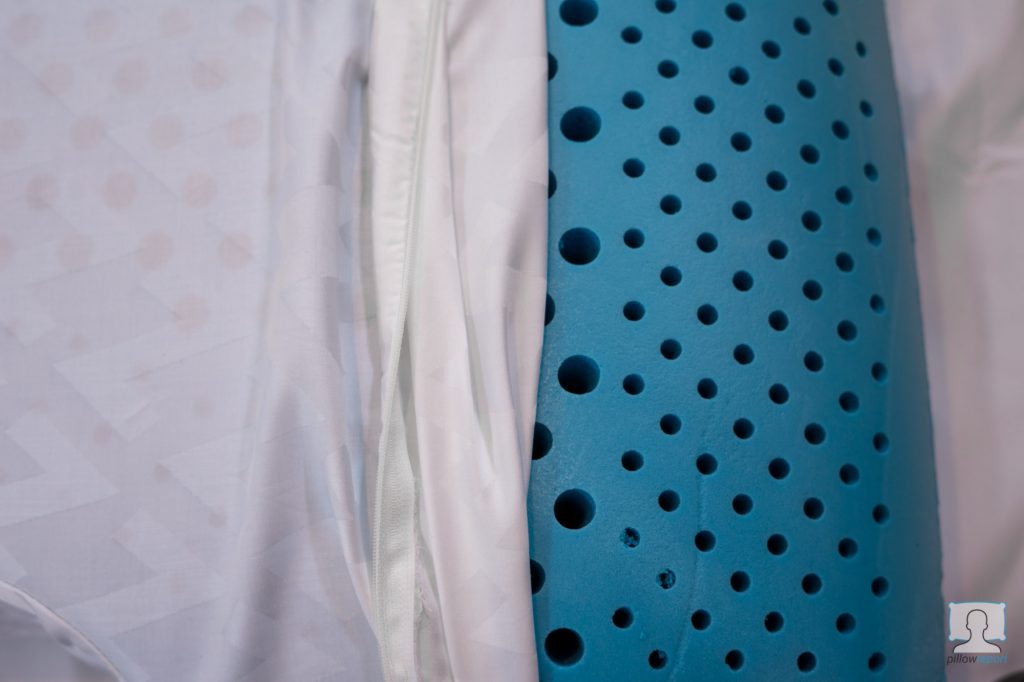 Comfort ( A )
For side sleepers, the comfort is unmatched because your shoulder isn't elevated. You get great spine/neck/head alignment for enhanced comfort. Memory foam has a slow response time, so it cradles the head and neck for pressure relief. As with anything memory foam, it has a sinking/doughy comfort.
Value ( A- )
Excellent quality as Malouf is known for.
Other ( A )
It is nice to have options and the Malouf Z Shoulder Zoned Dough Pillow comes in 5 varieties: CBD, Lavender, Chamomile, Peppermint, Bamboo Charcoal, and Cooling Gel.
Subjective Thoughts
This pillow is excellent for side sleepers and side sleepers only. It is only designed for side sleepers so if you move positions at night it might not be the best for you. Additionally, the options are great for you to be able to pick a pillow the fits your sleep style.
Is This Pillow Right For Me?
Overall this pillow is great in many aspects, but you might find it particularly perfect if you:
Sleep on your side – with the shoulder cutout, this pillow is specifically designed for side sleepers
Want memory foam – the pillow has a dough-like feel to create contouring support and pressure relief
Other Key Facts
Free shipping – via Amazon Prime or on their website
Warranty – 5-year
Made in – China while designed in the USA
---
1 Made In: Where the majority of the materials are produced, not the assembly location. Many manufacturers like to state the assembly location instead of the actual manufacturer location because it is usually China or India.