Tempurpedic TEMPUR-Cloud Breeze Dual Cooling Pillow Review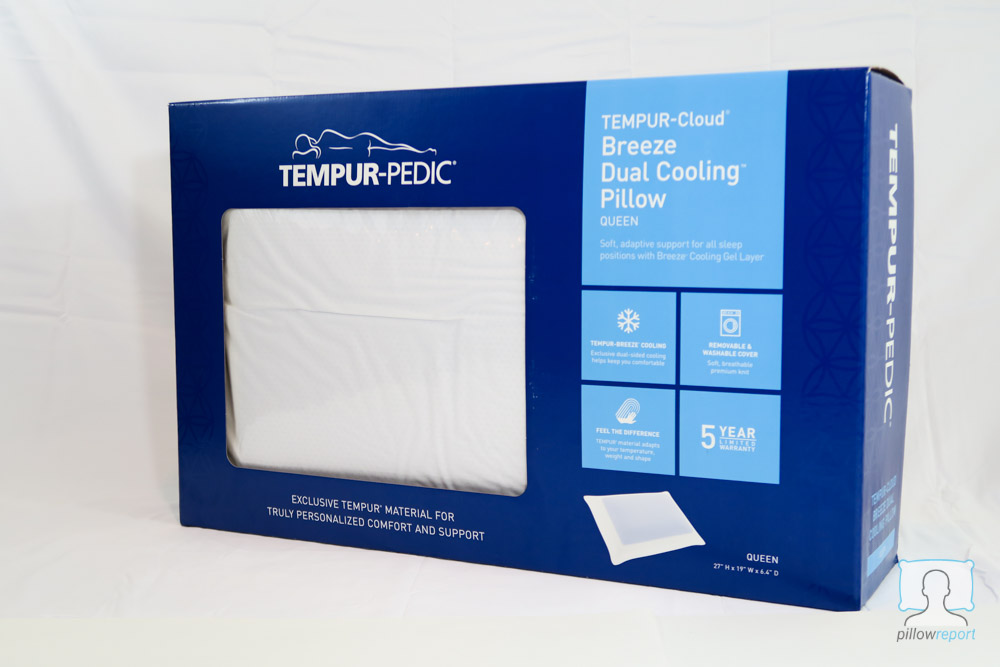 Summary
The Tempurpedic TEMPUR-Cloud Breeze Dual Cooling Pillow is a gel-based memory foam cooling pillow that has a firm feel. The "cooling" gel has an initial cooling feel but then quickly heats up and doesn't dissipate heat very quickly to maintain temperature because of the limited breathability of memory foam and gel layers.
We found this pillow is best for back and side sleepers or individuals who prefer a firmer memory foam pillow.
Order Process & Delivery
Ordering from Tempurpedic's website was okay. There is minimal information on the pillow and if you chat a representative they "can't" give you much information because everything is proprietary… One important thing to note, Tempurpedic doesn't offer returns on this pillow through their website, so order through Amazon. Amazon provides a 30 day return period on any product you purchase for any reason you would like, so if you are looking to test out a pillow over $100, that is the best way to proceed instead of ordering through Tempurpedic's website directly.
The Tempurpedic TEMPUR-Cloud Breeze Dual Cooling Pillow was delivered within 5 days and our order was shipped within 48 hours. It arrived in a large box via UPS.
Initial Thoughts / Unboxing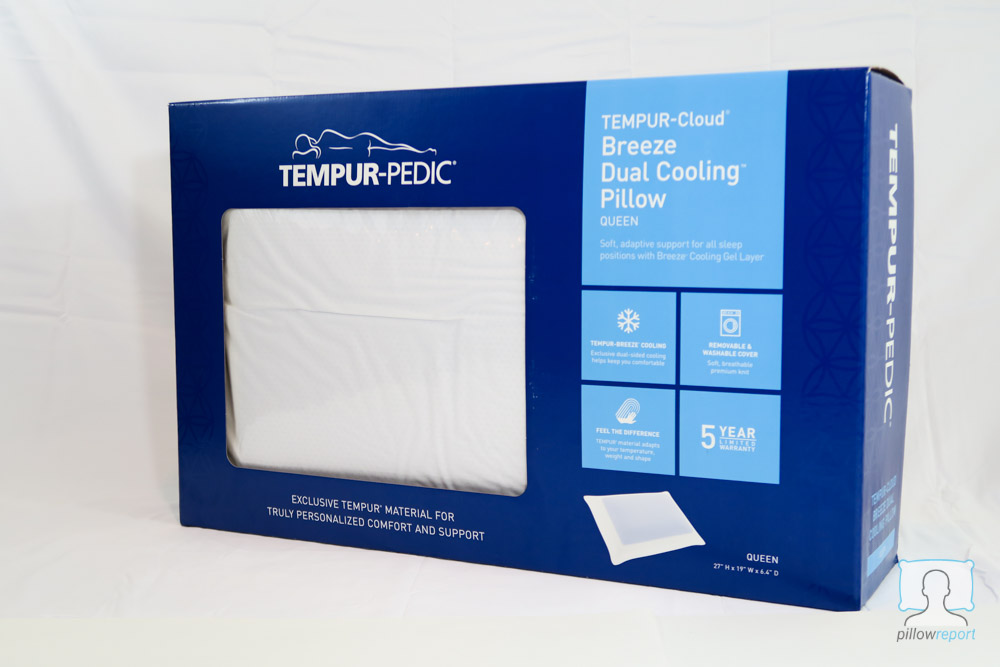 Upon unboxing, the pillow was lying flat in a bag. It had a slight smell to it, but this dissipated within a few days. This smell is a mix of a new product smell and off-gassing of the memory foam. Once unboxed and unbagged, the pillow cover has a stiff, crisp feel.
Detailed Analysis
Support ( B – Back; B – Side; 

F – Stomach 

)
Tempurpedic TEMPUR-Cloud Breeze Dual Cooling Pillow we tested (Queen) was on the higher loft side, 6.9 inches in height. This higher loft combined with the firmness (7, take a look at our firmness scale) of the pillow makes it great for side sleepers and back sleepers who like a firmer pillow. In the side position, the pillow's height and firmness allow for the pillow to take up the space between the shoulder and head. If you are a smaller individual, the height/firmness of this pillow might be too much for you in the side or back sleeping positions. In the stomach position, the pillow is too firm and will put too much stress on the neck for the average sleeper. We would avoid this pillow if you are a stomach sleeper.
Durability ( A )
There are two parts to the durability of the pillow: the cover and the inner material.
Regarding the cover, it remained in like-new condition through all of our durability tests. The fabric is 100% cotton (made in China) and has a firm, crisp feel. The cover has a zipper so it can be easily laundered.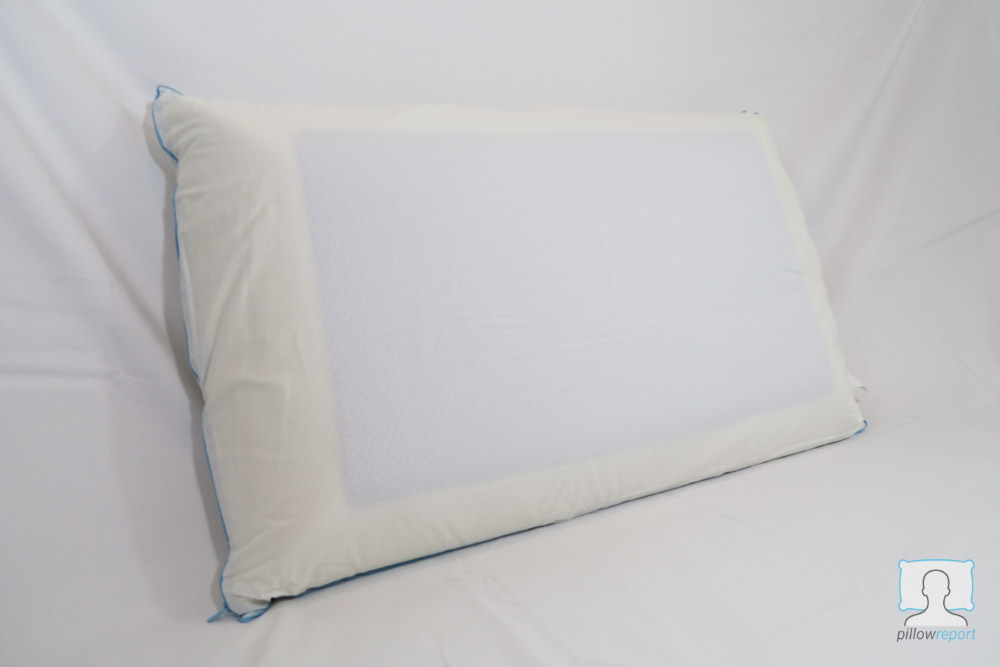 Regarding the inner material, it is a combination of memory foam and gel slabs. The memory foam is made in the USA and didn't break down in any of our testings. On the other hand, the gel slabs aren't held on very well. They started to peel up from the edges during our testing. It seems like they aren't held down by any adhesives like many other gel-based pillows are. This could cause lumps, bumps, or even tearing in the future.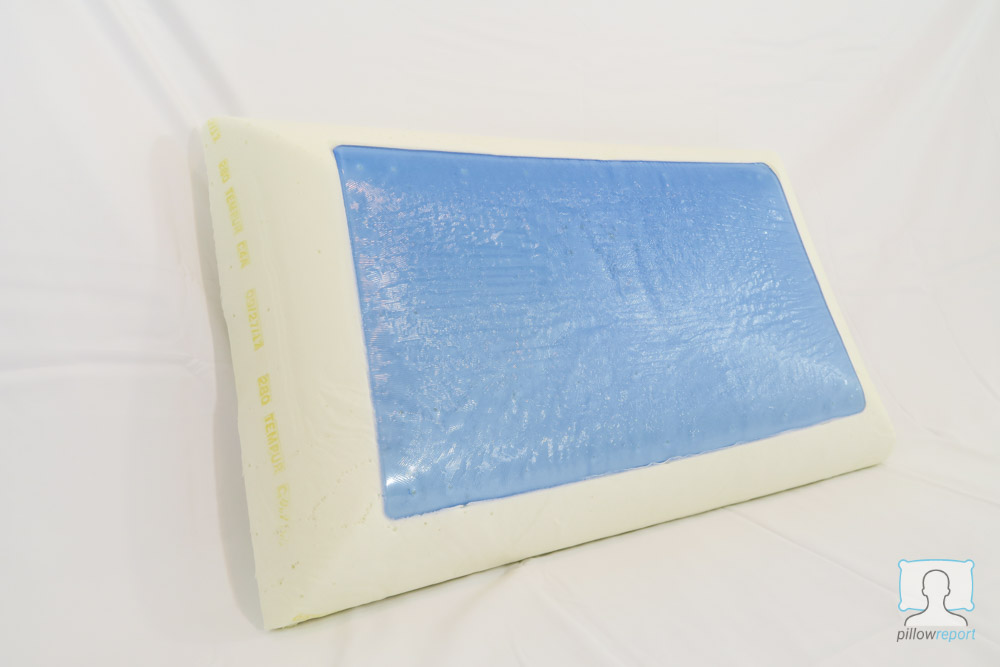 Comfort ( A )
Memory foam has an extremely slow response time, so, if you do move at night, you will have to wait for the pillow to adjust. This isn't a negative or a positive, as some sleepers prefer this because it cradles their head and neck for pressure relief. Additionally, the foam used in this pillow, memory foam, has a dough-like consistency so you sink into it. Lastly, the memory foam used in this pillow isn't very breathable so it will retain heat.
Value ( B )
Tempurpedic makes quality products which have durability, longevity and good support characteristics.  Generally, Tempurpedic products are slightly overpriced because of the brand name they carry, but if you can find this pillow for under $100, then it is a great value.
Other ( B )
The gel-based cooling technology of this pillow only has an initial feel and doesn't do great at managing temperature in the long term. Gel's "cooling" technology is based on the higher density of the gel versus the surrounding materials. Higher density objects absorb heat slower than lower density objects. So, the gel will feel cooler as it absorbs heat slower but once it hits the max absorption the gel will remain hot for much longer because it works the same way when releasing heat. Additionally, the breathability of the memory foam used in this pillow reduces the cooling effect of the gel even more. No breathability from the gel layer and memory foam doesn't provide air movement which leads to a hotter sleep and no wicking properties.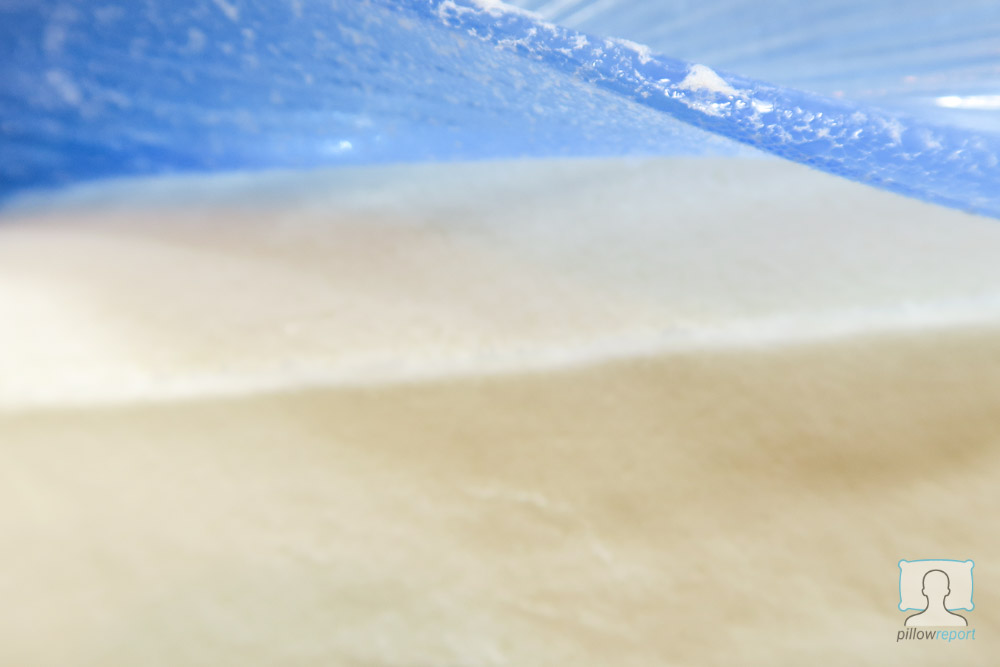 Subjective Thoughts
Customer support on Tempurpedic's website was the least helpful of any company we have dealt with so far. It seems like they try to hide the information from you and don't give you the information you need to make the right choice. This is one reason we created these reviews and uncover the true nature of a product.
Memory foam pillows do tend to sleep hotter than most pillows and gels don't do anything but create a barrier for breathability. This pillow is dense and feels quality.
Is This Pillow Right For Me?
Overall this pillow is great in many aspects, but you might find it particularly perfect if:
Want memory foam – Tempurpedic has always been known to create quality memory foam and this pillow shows that. The pillow has a dough-like feel to create contouring support.
Like gel – Boths side of the pillow have a thick layer of gel to provide cooling and comfort
Back sleeper – The pillow provides great alignment for the head/neck/spine in the back sleeper position
Other Key Facts
Free shipping  – free shipping in the USA
5-year warranty – repair or replace for free
No trial – no trial period if you order directly from their website, although if you order from Amazon, you can return within 30 days
Washable – machine washable cover
---
1 Made In: Where the majority of the materials are produced, not the assembly location. Many manufacturers like to state the assembly location instead of the actual manufacturer location because it is usually China or India.